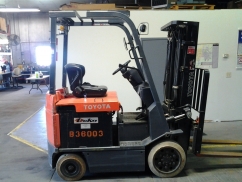 What is a Reconditioned Forklift Battery?
What is a reconditioned forklift battery? Is reconditioning a forklift battery worth it? The answer depends on whether or not the battery has actually been reconditioned and performance tested.
The process of reconditioning a lift truck battery starts with an inspection and minor maintenance work. Cycling the acid and watering the cells will help make the battery ready for the testing stage. You can also replace a few dead cells if you want to, but if too many cells need replacing, it's probably not worth continuing the process.
Other than taking the time to inspect and perform minor maintenance work, there is little else you can do to recondition a battery, but you do want to know whether or not it is worth keeping, so the next phase of the process is load testing the battery. By testing the battery under load conditions and monitoring the voltage at hourly intervals, you can determine whether or not it is worth salvaging. Ideally, the battery should have around 80% capacity after four or five hours of load testing, but even if it only retains around 50% capacity, it might still be worth salvaging if you only use the forklift sporadically throughout the day. As a rule of thumb:
• If the battery tests at 80% for 5 hours, you will still be able to get 5 hours of continuous use out of it.
• If the battery tests at 80% for only 3 hours, you should expect to get 3 hours of continuous use out of it before it needs recharging.
Bear in mind that load testing will give you an indication of how much continuous use you can get from a battery. In many industrial settings, forklifts are only used sporadically. If you need a forklift for 15 minutes, four or five times a day, even a reconditioned battery that performs relatively poorly might be worth keeping. If you need it continuously over an eight-hour shift, though, it's time to replace the battery or buy a second reconditioned battery that has been load tested.
If you have a number of used electric forklifts in your operation, it's worth it to give the batteries you test a cosmetic facelift with a coat of spray paint. This way, you can keep track of the batteries that have been load tested. Do not, however, buy a reconditioned forklift battery just because it has received a pretty coat of paint. You need to see evidence of its performance under load and if you're buying it from a dealer, they should back up the sale with a performance warranty.
Buying a Reconditioned Electric Forklift
How do you know a "reconditioned" used electric forklift has actually been reconditioned and isn't just a used forklift that has been given a cosmetic makeover? A reputable used forklift dealer will do a number of things to make sure their customers know exactly what they are buying. At reconditionedforklifts.com, for example, we start by giving you three types of used forklifts to choose between:
1. As-Is used forklifts are sold in "as is" condition.
2. Guaranteed Operationally used forklifts have either been tested and deemed operational or reconditioned enough to be in operational order.
3. Certified Reconditioned forklifts have been put through a rigorous 103-point inspection process and are backed by a Toyota-certified warranty.
Whichever type you choose, you can find out details about the used lift truck online and if you have further questions, can contact us and our service technicians will be happy to answer all your questions, including questions about the battery in a used or reconditioned electric forklift.