Every forklift is comprised of thousands of forklift parts. Over the lifetime of your forklift, many of your forklift parts will need replacing. This is why we offer a full range forklift parts and make our highly experienced in-house parts department available to you for assistance.

If you are a new visitor to our site, you may not be aware that forkliftaccessories.com is a division of a much larger materials handling business, Bahrns Material Handling Equipment and Supplies. Founded in 1966 in Effingham, Illinois, Bahrns has grown to be one of the most respected names in materials handling in central Illinois. When you buy forklift accessories, forklift attachments or forklift parts from us, you are dealing directly with the Bahrns team of professionals.

To assure you, our valued customer, get the exact forklift parts and accessories for your forklift, ForkliftAccessories.com has provided the handy form below. Fill out the Forklift Parts Form and our experienced forklift parts department will get back to you quickly with the answers to all your forklift parts questions, pricing, and any further information you may need assistance with.

You may also contact us at 1-800-432-2909 for any questions or inquiries.
Forklift Parts Request Form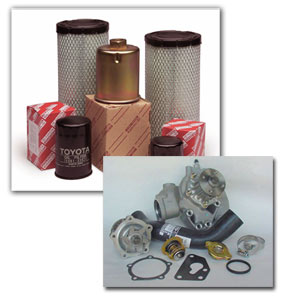 Why Buy Forklift Parts from Us?
When you need forklift parts, there are many ways to find them. Nowadays, you don't even need to drive to an industrial parts scrap yard or forklift dealer to find forklift parts: you can just look online. There are dozens of places you can look for both new and used forklift parts online, but many of them are not backed by the expertise or integrity of a long-standing materials handling business like Bahrns Equipment. Well over thirty years ago, Bahrns began selling new forklifts and then expanded into sales of used forklifts. In other words, we are not just an internet search engine. We are a group of highly experienced experts in materials handling and forklift sales, service and repair. As such, we have the knowledge and experience to help you find the best parts at the best prices.

Resources
Because of our many years of experience, we also have the most extensive range of resources for forklift parts that you will find anywhere - online or offline. If you need forklift parts, we most likely have them in stock. If we don't, we can find them for you. We have a sterling reputation in our industry and when a Forklift Accessories representative needs forklift parts, he is always given the highest level of service.
We also know who to avoid when buying forklift parts. When you buy from Forklift Accessories, you are not buying cheap parts of questionable quality as you would if you bought from a discount online parts dealer or a private party.
Price
Considering the high levels of service and quality we offer, you would be forgiven for thinking that forklift parts from Forklift Accessories would cost more than they would cost you elsewhere. The fact is, because we are such a large, well-established company, we can get the best parts at the best wholesale prices and pass those savings on to you. Our business model is based on a philosophy that believes business success depends on service, quality and value and not on making a "quick buck." This philosophy has been the secret of Bahrns Equipment's success and we carry on that tradition here at Forklift Accessories.
Start your search for forklift parts here at Forklift Accessories. We are confident that you won't need to search anyplace else.