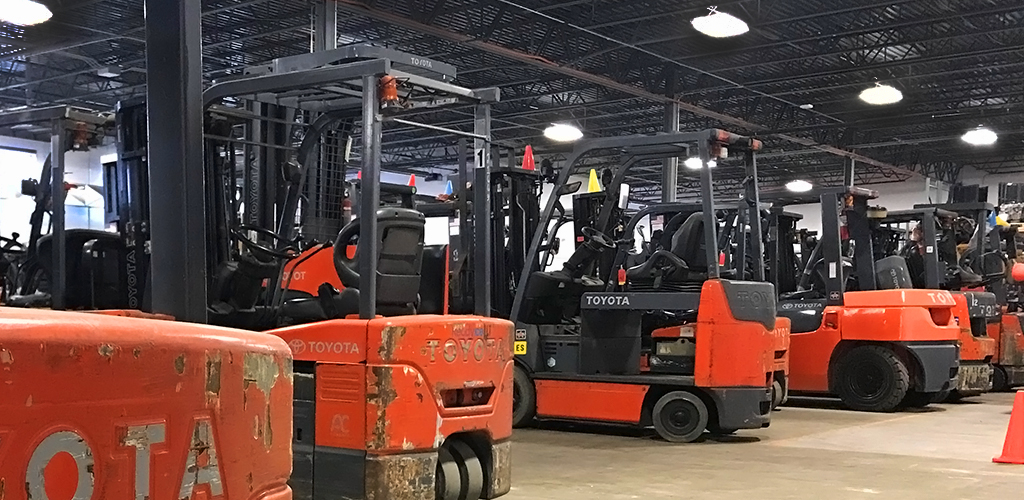 How to Manage a Fleet of Used Forklifts
According to insurance companies, a "fleet" of vehicles is defined as four or more vehicles. In the real world, if you are running three or more used forklifts, they represent a substantial investment that needs to be managed properly or can become a financial burden instead of your most valuable assets.
We hear so much about automated systems and robotics, that it's easy to believe that forklifts are going the way of dinosaurs in large facilities. The facts prove otherwise. The majority of large warehouses in America today are still manual operations that use fleets of forklifts in their day-to-day operations. Acutely aware of the operating costs, they keep close tabs on their fleets and how to manage them.
"What does this have to do with me?" you ask. "I only have three used forklifts." Relatively speaking, a smaller fleet of forklifts constitutes an equal or greater investment, and learning from the number-crunchers at larger facilities can teach you a lot about how to maximize your investment in used lift trucks.
How to Manage a Fleet of Used Forklifts
These are some of the most important things managers look at when analyzing the cost-benefits of their fleets of lift trucks:
1. How many hours per day are the lift trucks in operation?
2. Do we have the right types of forklifts for the required jobs?
3. How much are we spending on forklift maintenance?
4. Are forklift operators maintaining batteries properly?
5. Are we complying with OSHA checklist regulations?
6. Are our forklift operators pushing their vehicles beyond their limits?
These are all important questions because they lead to money-saving solutions:
1. If you know how many hours your forklifts are being used each day, you know whether you need more vehicles or can reduce the number of lift trucks in your fleet.
2. If you're making do with three standard electric riders, but are short of space, it might be a better idea to trade one used forklift in for a narrow aisle lift truck and rearrange your pallet racks.
3. If you're spending too much on forklift maintenance, it may be time to retire older used forklifts.
4. Batteries are very costly and if not well-maintained, came become an unnecessary waste of money.5. OSHA checklist regulations help you keep tabs on the condition of your fleet of forklifts.
6. If your forklift operators are carrying heavier loads than their lift trucks are designed for, it's an accident waiting to happen and your forklifts will need more frequent repair and replacement.
One of the biggest mistakes fleet owners make is overlooking the importance of forklifts and their associated costs. All too often, they try to cut corners by letting forklift inspections, battery maintenance, and necessary repairs slide. It may save a few dollars in the short run, but when they get slugged with a higher repair bill or the need to replace batteries more often than they should, those short-term "savings" turn into much greater medium and long-term costs.