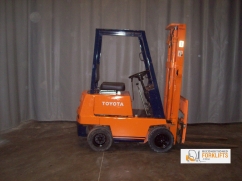 Used Forklift Maintenance Tips
Nobody argues about the importance of forklift maintenance, but sometimes maintenance can seem like a waste of time and money. The truth is that proper maintenance can actually save you money in a number of ways. Taking care of problems as they arise helps ensure small maintenance issues don't become big ones; helps avoid costly forklift downtime; and most importantly, can help prevent accidents. Forklifts need to be properly maintained while they're at work, too. These used forklift maintenance tips will help keep your forklifts running smoothly and money in your wallet.
One: Always stick with your servicing schedule
It's easy to put off servicing a forklift until "tomorrow," but often that tomorrow doesn't come until it's too late. Stick with your servicing schedule and avoid costly repairs "tomorrow."
Two: Do your daily maintenance checks
Daily checks like oil levels, tire pressure, battery water levels, and other routine checks are another thing that's easily put off till tomorrow. Don't do it. Once you make a habit of doing daily checks, they only take a few minutes and the day will come when you'll be glad you formed the habit. Also, don't forget those essential safety checks.
Three: Pay special attention to hydraulic hoses
If you notice cracking, splitting, or weeping on your hydraulic hoses, replace them immediately. If left unattended these can cause major problems. Keep spares on hand and replace the spares as you use them.
Four: If you find a problem, do something about it
Maintenance checks are designed to help you catch potential problems before they become real problems. If you find a problem, report it and have it taken care of immediately.
Five: Are you creating a maintenance problem?
Part of forklift maintenance is taking the time and care to operate a lift truck safely and efficiently at all times. Sometimes forklift operators develop bad habits, such as dragging their tynes. That's easily corrected and when you make a habit of keeping the tynes off the floor, not only will they last a lot longer, you'll be saving on fuel costs at the same time.
Six: Use only trained and licensed forklift drivers
Trained and licensed forklift operators are safe and efficient operators. Untrained forklift operators are often unaware of important safety concerns and not likely to pay attention to forklift maintenance issues. Would you hand the keys to your car to an unlicensed driver? Why, then, would you entrust your lift truck to an unlicensed forklift operator?
Seven: Take care of your forklift battery
Forklift batteries are expensive to replace, but it's amazing how badly neglected they often are. Check out this Forklift Battery Care FAQ and take proper care of your forklift batteries. It's one sure way to save money over time.
Eight: Don't neglect your tires
Check your tire pressure daily. While you're at it, check your tires for wear. Also, don't forget to rotate your tires regularly. This will lengthen their life and increase their efficiency.
Used forklifts offer great value for money, but only if they're maintained. Neglect your used or reconditioned forklift and ultimately you're neglecting the reason you bought it in the first place: to help your business grow and prosper. Take care of your used forklift and it will take care of you for years to come.
Knowing the condition of a used forklift before you buy it is the only way to know how much you'll have to pay for repairs and maintenance. This can be risky when you're buying used forklifts online. Our article, The Risks, and Rewards of Buying Used Forklifts Online can help you avoid the pitfalls of buying used or reconditioned lift trucks sight-unseen.