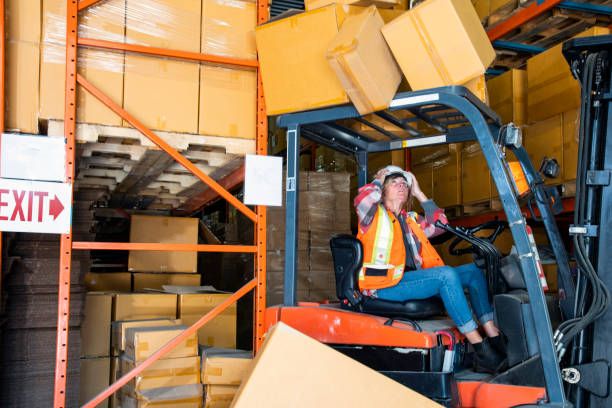 Forklift Accidents and the News
At the end of a long working day, we all like to sit down in front of the TV, turn on the news, and catch up with what's going on around the world. There's nothing wrong with that, of course, but the evening news is geared towards information that is of concern to the general public. Those of us who's working days are spent around used forklifts could benefit from the news that isn't big enough to make the network news: news about forklift accidents. How do you find news about forklift accidents and why should you care?
How to Find News about Forklift Accidents
They don't call the internet the Information Highway for nothing. If you know how and where to look, you can find news about anything online. The place to start is with your favorite search engine. Any good search engine will have a "search the news" facility. Try searching for "forklift accidents" or "used forklift accidents" and you will be in for a nasty surprise. Virtually any day of the week, you will find not just one, but several articles from local newspapers and other news outlets around the world about forklift accidents. These are just a few that popped up on Google search on the 22nd of March, 2013:
• The Northern Echo, a U.K. newspaper, reported that a 27 year old man "died after being crushed by a forklift truck at the largest steel fabrication plant in the UK."
• Builders' Merchants News reported that a man sustained "serious leg injuries after he became trapped under a battery while servicing a forklift truck."
• The Chicago Tribune ran a story about a $91,000 fine issued by OSHA to a trade show contractor following an investigation of an accident caused by a forklift at the International Manufacturing Technology Show.
Yet another article published in Lexology, a legal journal went into the technical details of why a Missouri court agreed that a materials handling company "forfeited general liability coverage by breaching the policy's cooperation clause." The company in question was a defendant in a personal injury suit involving a forklift accident.
Why Should You Care about Forklift Accidents?
The news gives us all something to talk about during our lunch break at work. We argue about world events and exchange ideas about how to fix the economy, but we don't talk about things that we can actually do something about other than vote. We don't talk about forklift accidents, for instance, because we didn't hear about any on the evening news. If we knew just how frequently forklift accidents occurred and how they affect lives and businesses on a daily basis, we would work together to prevent them from happening in our workplace.
Nobody is suggesting that everyone who owns or operates used forklifts should turn off their TVs and spend every evening reading the forklift accident news. All that's necessary is increased awareness about forklift accidents and how often they occur. OSHA knows all too well how common forklift accidents occur. According to their data,
• Over 11 percent of all forklifts will be involved in a minor or major accident each year
• Nearly 35,000 forklift accidents cause serious injuries each and every year.
• There are almost 62,000 non-serious forklift accidents every year.
• Forklifts cause 85 fatal accidents per year on average.
Faulty used forklifts are very rarely the cause of forklift accidents. In the vast majority of cases, operator negligence is cited as the cause. That's something we can and should do something about. Spread the news.