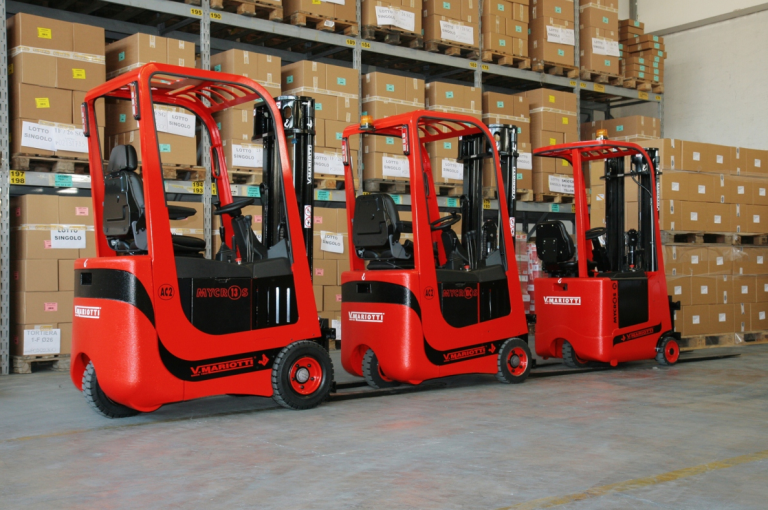 Improve Warehouse Efficiency with Narrow Aisle Forklifts
Is your warehouse or factory feeling a little cramped? Are you wondering where you're going to fit that new piece of machinery you need? One solution is to pack up and move to larger facilities, but that probably isn't the smart solution. Maybe all you need is a Narrow Aisle (NA) forklift.
The Raymond Corporation introduced the first narrow aisle forklift in 1951, during the post-WWII boom years. The Model 400 Spacemaker was originally designed for use in the Raymond factory, but visitors to the facility were so impressed with it, that Raymond released it to the market and it became one of their best-selling forklifts. Why was it so popular?
It all boiled down to cost-effectiveness. The cost of a new narrow aisle forklift for use in storage areas was far less than the cost of expanding storage space.
Narrow aisle forklift technology continued to improve and the Very Narrow Aisle Forklift (VNA) was introduced. Even that was not enough for giant warehousing facilities and today, automated delivery equipment is replacing the traditional forklift in many larger warehouses and factories. Of course, the high cost of such equipment is not cost-effective in a smaller facility, but the principle remains the same: it is always important to use your available space as efficiently as possible.
Used order pickers and reach trucks are 2 of the most in-demand types of used forklifts on the market today. They don't make the news as much as the new breed of automated materials handling equipment does, but they are "big news" in the average warehouse or factory as business owners look for ways to cut costs and improve productivity.
Take a look at this used order picker from our reconditionedforklifts.com inventory of used narrow aisle forklifts. It may not be pretty or high-tech by today's standards, but if you are currently having to waste dozens or hundreds of square yards of space to allow your standard forklift to maneuver between aisles, it may be just what you need.
Whether you need more storage, more equipment, or even more office space, it doesn't take an MBA to figure out that an inexpensive used forklift like this is a far more cost-effective solution than moving to larger facilities.
If an order picker is not right for you, a used reach truck may be what you need. Even an older model reach truck reduces a forklift's turning radius by 35% while at the same time giving greater vertical reach. This adds up to a lot more storage space even in a smaller factory or warehouse.
With over 40 years of experience behind us, we at reconditionedforklifts.com are materials handling experts. If you need a used lift truck but aren't sure what's right for your business, contact us and one of our highly experienced customer representatives will help you make the right decision. Whatever you do, don't give up on your existing factory or warehouse until you've discovered how to make the most of the space you've got with narrow aisle forklifts.