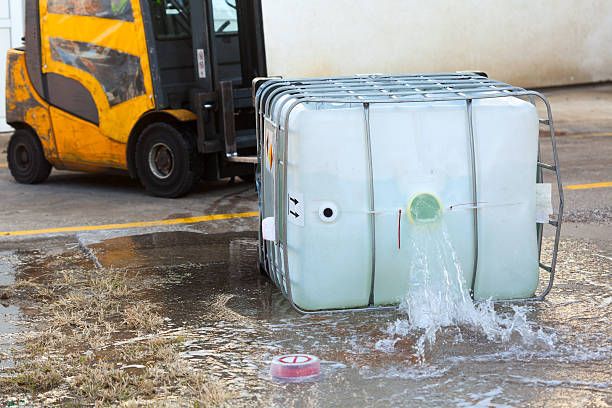 Used Forklifts not to Blame for Most Forklift Accidents
We sell three types of used forklifts at reconditionedforklifts.com. Our "As Is" forklifts won't win any beauty contests, but are they unsafe? Since more safety features are built into new forklifts, you might be tempted to think they are unsafe, but statistics tell a somewhat different story. According to the National Institute for Occupational Safety and Health (NIOSH) and OSHA, the overwhelming majority of forklift fatalities and injuries occur because of operator error.
Before you breathe a sigh of relief and think you can dispense with regular maintenance checks, though, OSHA points out that part of  "operator error" includes failure to properly maintain forklifts. This is why OSHA safety regulations mandate that all industrial trucks must be examined before being placed in service. Maintenance inspections are such an important part of forklift safety, OSHA goes on to state:
Brakes, steering mechanisms, control mechanisms, warning devices, lights, governors, lift overload devices, guard and safety devices, lift and tilt mechanisms, articulating axle stops, and frame members shall be carefully and regularly inspected and maintained in a safe condition (ASME/ANSI B56.1-1993m 6.2.7) [ASME 1993].
Arguably, the condition of a forklift is not a major cause of accidents because forklift owners know their forklifts need to be in operable condition. While some may not strictly adhere to OSHA guidelines for daily inspections, they do have a vested interest in making sure brakes, steering mechanisms, and other mechanisms are in good working order.
Nevertheless, one person's definition of "good working order" is not necessarily another's. Take the 1996 death of the owner of an advertising sign company, for example. While unloading steel tubing from a flatbed trailer, his forklift tipped over and his death was caused by instantly fatal head and neck injuries. The subsequent investigation revealed that:
1. Damage to the right side of the rear axle prevented restriction of lateral sway when the lift truck turned;
2. Slack in the steering mechanism forced the driver to turn the wheel nearly half a turn before the wheels began to turn; and
3. The forklift was not equipped with a seatbelt.
Had the rear axle been in good repair, the forklift may not have started to tip. If the steering mechanism had been working properly, the driver may have been able to make corrections that would have prevented it from tipping over. If he had been wearing a seat belt, the operator would not have been thrown from the forklift and may not have been killed.
The moral of the story is that daily forklift inspections are important and that regular maintenance not only makes a used forklift more efficient, but it can also save lives. You can safely buy an As-Is used forklift from a reputable used forklift dealer like us because we tell you everything you need to know about it before you buy it. It's your responsibility to make necessary repairs before you put it into operation, though, and keep it maintained for as long as it is in service.
Source of information and quotation in this article: Preventing Injuries and Deaths of Workers Who Operate or Work Near Forklifts