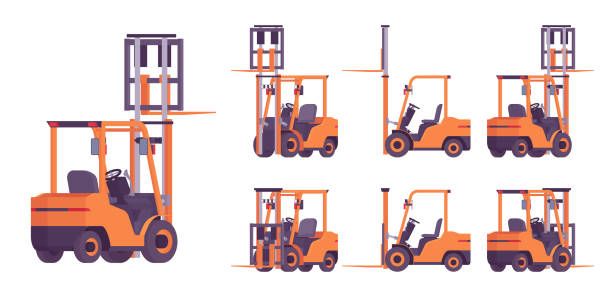 Whether it's your phone bill or your fleet of forklifts, if you don't keep an eye on your ROI, you're not operating your business as efficiently as you could be. Many materials handling businesses today are discovering that a used forklift offers the best Return On Investment that money can buy. However, there's more to getting the best ROI than just buying the cheapest used forklift you can find.
Used or Reconditioned Forklifts?
Reconditioned Forklifts sells 3 types of used forklifts:
• "As Is" used forklifts are sold in "as is" condition, with no performance guarantee. They have been inspected, though, and their defects listed, so buying an "As Is" forklift from reconditionedforklifts.com does not mean you're buying a lift truck you know nothing about.
• "Guaranteed Operational" used and reconditioned forklifts will be in operational order when they arrive at your facility. These forklifts have been thoroughly inspected by trained forklift mechanics. Although they do not come with extended warranties, any defects that may affect performance later are clearly stated.
• "Toyota Certified Reconditioned Forklifts" has been put through an exhaustive checklist and come with a 1-year/2000-hour warranty backed by Toyota.
Of course, "As Is" used forklifts will usually be cheaper to buy than "Guaranteed Operational" or "Toyota Certified" reconditioned forklifts, but is the risk worth the savings? That depends on your circumstances.
One thing you can count on when buying any used or reconditioned forklift from reconditionedforklifts.com is that you will know what you're buying before you buy it and can judge for yourself whether or not it offers you a good return on your investment. If you are or employ a good mechanic, an "As Is" forklift may be a great investment. If you only need a forklift for a few hours per week, a "Guaranteed Operational" forklift may offer a better ROI than a "Toyota Certified" reconditioned lift truck.
For further information about these types of used forklifts, read About Reconditioned Forklifts Condition Types on reconditionedforklifts.com
Forklift Classes and ROI
Reconditioned Forklifts also sell all classes of forklifts. Would a Class I Electric Rider lift truck give you a better ROI than a Class III "Walkie"? Would adding a Class III walkie/rider to your fleet help improve productivity and workplace efficiency? If you're asking yourself these kinds of questions, you're off to a good start, because too many forklift owners overlook the importance of getting the right used forklift for their needs.
Let's say you already have a Class IV Internal Combustion forklift in your facility. You've been using it for years and don't think too much about the time that's wasted manually moving smaller loads around the factory or warehouse with dollies and hand trucks. Manual lifting and moving are both time-consuming and fatiguing and may be hurting your ROI more than you realize. While you may not be able to justify the cost of a new walkie rider, an inexpensive reconditioned walkie rider in operational condition may be the best investment you can make.
Our Forklift Guide will give you an overview of all forklift classes and codes. Take a look at it and see if there's a forklift class you've been overlooking that can improve your ROI. Then decide what condition it needs to be in. After that, you know where to look for reconditioned forklifts: on reconditionedforklifts.com, of course.