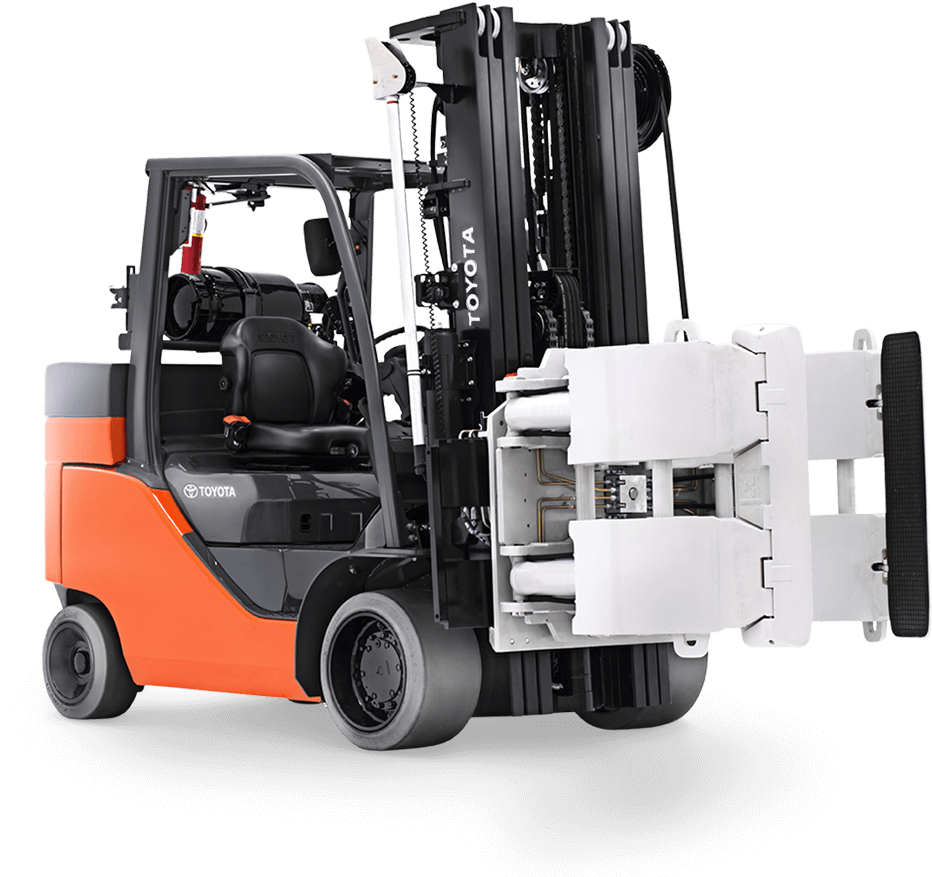 Toyota Offers Paper Roll Special Forklift
Toyota Forklift is offering a paper roll special forklift. Specifically designed to stack and carry heavy paper rolls, the lift has a lifting capacity of 12,000-lbs. and a travel speed of 13-mph with a full load.
The fork face length is 106.3-inches and its overall width is 55.9-inches. It includes an overhead guard that is 83.5-inches high and you have a choice of a gasoline or liquid propane gas engine.
The unit features:
• System of Active Stability™
• Integrated Monitoring System
• No-Tool Floorboard
• Clamp Release Interlock System
System Of Active Stability (SAS)
Exclusive to Toyota forklifts, this features proactive stability that reads 3,000 data points a second to ensure driver safety. The system automatically realizes when factors can put a lift at risk and automatically stabilizes the lift with a swing-lock cylinder to prevent tipovers.
Integrated Monitoring System
The lift has been equipped with industrial control devices that allow you to monitor, adjust, and maintain automated and manual aspects of the equipment and operations. This ensures a level of vulnerability protection due to expert oversight.
Clamp Release Interlock System
This particular feature assures that the handling tool's clamp will not fail under any circumstance.
Advantages Of Toyota Paper Roll Special Forklift
The unit offers a variety of benefits for handling extremely large paper rolls. Some of these advantages include:
• Factory-Installed Cascade Paper Roll Clamp that is specifically designed to handle heavy, delicate paper rolls.
• Automatic Clamp Leveling assures that the clamp is properly positioned vertically to the paper roll, making handling more efficient and productive as it limits product damage.
• Specialized Mast Design along with lift height allows the operator to stack up to three large paper rolls.
• Shortened Wheelbase, Load Distance And Right Angle Staking Radius allows greater maneuverability.
• Compact Counterweight to ensure additional maneuverability.
A powerful 3.7-liter, 4-cylinder Toyota engine powers the unit. An engine protection system is included to automatically reduce power if coolant temperature rises to possible damaging levels.
The United States Auto Club recently did an independent study of forklift fuel efficiency and productivity. The study found that Toyota's 2,268 kg cushion internal combustion lift trucks, including the paper roll special forklift, ranked first in fuel efficiency and productivity.
The study included forklifts manufactured by Caterpillar, Yale, and Nissan.
(Source: toyotaforklift.com)