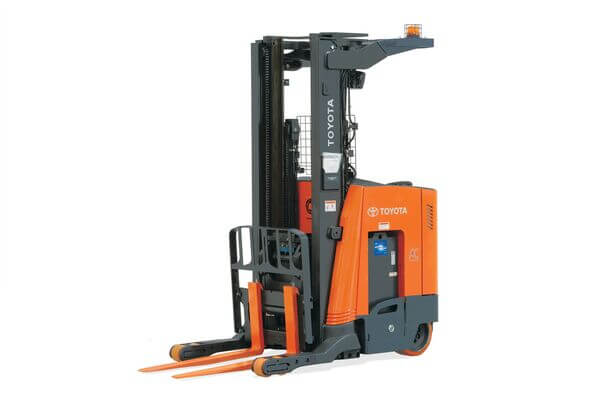 Reach Trucks Vs. Forklifts
In the field of material handling, warehouse managers are fortunate that there is a wide selection of vehicles available for use. There are more machines to choose from, which assures that the right machine is there to handle a particular task.
Two vehicles that are popular in the task of hauling products include reach trucks and forklifts. Each vehicle has their own advantages and disadvantages. So, they can't be interchanged. The forklift is better than the reach truck for some tasks while the reach truck is better than the forklift for other tasks. One needs to know the difference when determining which of these vehicles they should include in their fleet.
To further understand a comparison between one and the other, we need to define what each does and pinpoint their advantages and disadvantages.
What Is A Reach Truck?
A reach truck is a powered industrial truck that features a device that permits the forks of the truck to be extended horizontally. It is classified as a Class II electric motor narrow aisle truck.
There are four styles of reach trucks. They include:
• The single-reach truck
• Double-reach truck
• Moving mast reach truck
• Multidirectional reach truck
A Single-Reach Truck
A single-reach truck is the most common of these machines. They are designed to reach a single pallet position into a rack. Thus the term "single reach." Because of this feature, single-reach trucks are ideal for operations involving single-deep pallet storage.
A Double-Reach Truck
These trucks are designed to reach two pallet positions into racks. This feature allows a warehouse to expand its storage density.
Moving Mast Reach Trucks
This type of reach truck features a mast that is on rails and moves forward and backward.
Multidirectional Reach Trucks
This style of truck is a combination of a regular single reach truck and a moving mast reach truck. Moreover, the load wheels of these trucks are designed to pivot from side to side. The advantage of this is that they can move horizontally without turning the chassis. This feature makes this truck ideal for handling extra wide loads. The reach truck operator doesn't have to turn the machine. Instead, he can guide the truck in the direction of the narrowest segment of the load. Thus, this type of truck can move wide materials in narrow spaces.
How Fast Is A Reach Truck And How Is It Powered?
Reach trucks are electric powered and require a 36-volt battery. A 3,500-pound capacity truck can travel 7.5-mph. As a comparison, a three-wheel electric forklift travels at a speed of 9.9-mph.
The Difference Between A Reach Truck And A Counterbalance Forklift
Some of the major differences between a reach truck and a counterbalance forklift include:
• Forks on a reach truck can be extended
• Each machine balances a load differently
• Each react differently in operating environments
• Maneuverability
• Lifting capacity
• Fuel sources
• Differences in driver positioning
• Differences in the controls
• Limitations in the use of attachments
• Differences in lifting height
Extension Of The Forks
Reach trucks have a mast that can move forward and backward. So, they're capable of extending their forks. Forklifts, on the other hand, can move their masts up and down, so they can't extend their forks. The reach truck can achieve this because its mast includes a pantograph, a scissor mechanism that permits the truck to reach. A Hydraulic cylinder works the pantograph and the forks are installed within the mast and extend out the front of the vehicle. The driver simply pushes a button on the control panel of the truck to extend and retract the pantograph.
Load Balance
Most forklifts features a heavy metal weight on their rear that offsets the weight on the forks. This is called a counterbalance. On the other hand, reach trucks don't have a counterweight. Instead, they rely on base legs, which connect to the chassis and include the load wheels, to handle the weight on the forks.
Operating Environments
Counterbalance forklifts can be used indoors or outdoors on various surfaces, depending on the type of tires they use. They are capable of using a cushion tire that is ideal for indoor operation, but they can also use pneumatic and solid pneumatic tires, which are ideal for outdoor applications. Reach trucks, on the other hand, use cushion or polyurethane tires that limit them for use only indoors.
Maneuverability
Counterbalance forklifts have a longer wheelbase than reach trucks. So they have a larger footprint and thus a wider turning radius. In fact, a counterbalance forklift requires 10 to 12-feet of aisle space to maneuver. Therefore, they are ideal for use in wider aisles.
Reach trucks feature a shorter chassis so they can maneuver in aisles that are as small as 8-feet wide.
Lifting Capacity
Counterbalance forklifts have a lifting capacity of 100,000-lbs. or more. Reach trucks have a capacity in the range of from 3,000-lbs. to 4,500-lbs.
Fuel Sources
Reach trucks are electric-powered only. Counterbalance forklifts use a variety of power sources including electric, liquefied petroleum gas, diesel, gasoline, and compressed natural gas. Thus, counterbalance forklifts provide more power than reach trucks.
Driver Positioning
Operators commonly sit down in a forklift, although there are stand up models available. However, an operator commonly stands on a reach truck and is positioned perpendicular to the forks. This assures better visibility when traveling forward or in reverse. Furthermore, reach trucks also offer better forward site when the load is blocking the operator's view.
Controls
The location of the controls for a counterbalance forklift is similar to a car. Controls include a steering wheel, gearshift, accelerator and brake pedals. So, anyone who has driven a car should be capable of operating a forklift.
On the other hand, reach truck controls are different. They include a steering wheel, joystick, and a deadman pedal. The steering wheel is intuitive to use. However, the joystick is the component that controls all the functions of the truck including:
• The directional controls for forward and reverse
• Hydraulic controls for moving the mast up or down, tilting, extending or retracting. They also control auxiliary functions including the side shift.
The driver stands on the deadman pedal as he or she operates the truck. The truck shuts down when the driver steps off the pedal.
Attachments
Reach trucks are designed to use a limited assortment of attachments. Commonly, they are capable of using forks on the side shifter. Counterbalance forklifts can use a variety of attachments including forks, paper roll clamps, multiple pallet handlers, bale clamps, and more.
Lift Height
As previous mentioned, reach truck masts reach forward and backward, but they also move up and down. Some reach trucks feature taller masts than counterbalance forklifts. That's because reach trucks are commonly used in high-racking applications. So a reach truck can reach higher than 330-inches. A forklift, however, has a maximum reach of about 240-inches.
Conclusion
It is obvious that each truck has their own unique advantages and disadvantages, which can influence which to choose. It is up to the person responsible for choosing one or the other to do his or her due diligence to understand the differences of each truck and use that knowledge to choose the best vehicle that meets the needs of their particular warehouse.
(Source: conger.com)