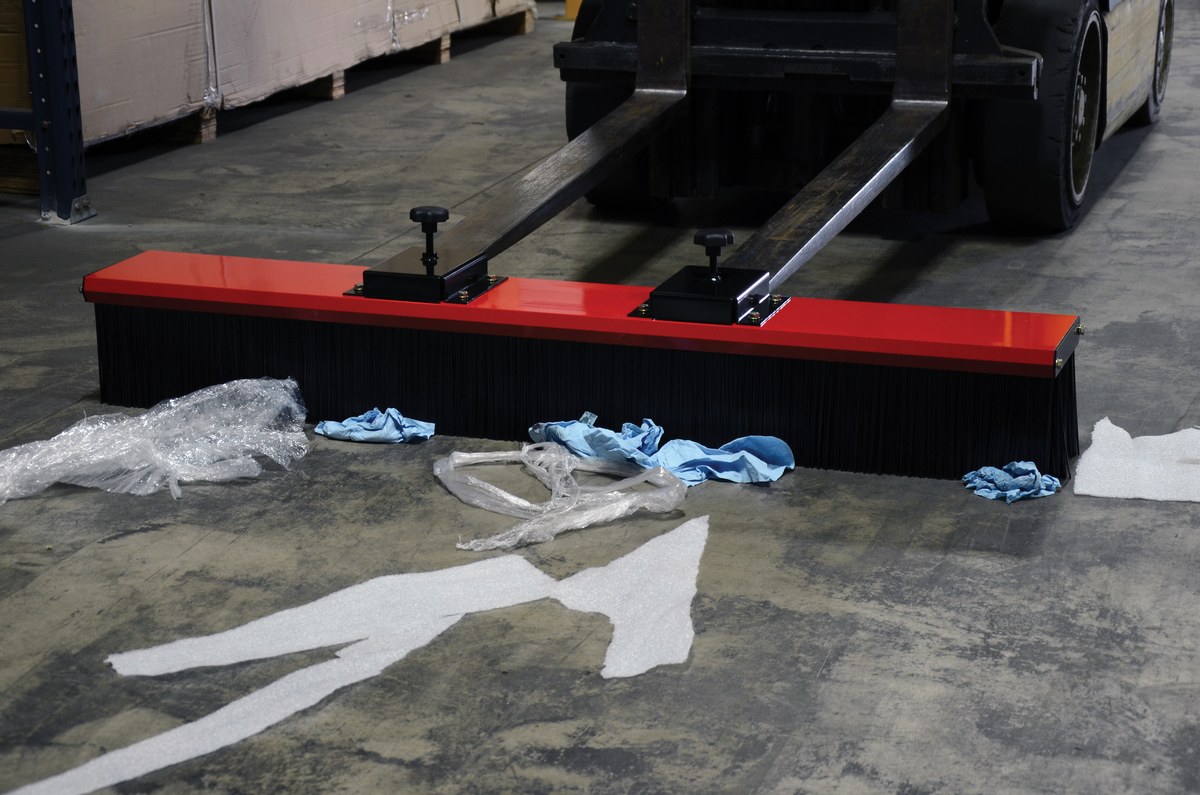 Cleaning Indoors and Outdoors with a Forklift Sweeper
Forklift attachments are an excellent way to convert your forklift truck into operating in an entirely different way. With forklift attachments, you can turn a once-to-be material transporter into an entirely different machine. One popular forklift attachment is the forklift sweeper. This attachment converts your forklift truck into a cleaning machine.  Now you are able to clean indoors or outdoors with your current forklift.  There are a wide variety of different sweepers available.  If you would like to learn more about the forklift attachment sweepers we have available, you can click here.  It is important to check that any sweeper attachment you purchase is compatible with the forklift truck you will be using it for.
What the Sweeper can be Used for
The sweeper attachment is designed to help perform commercial cleaning, and can be used for a wide host of areas.  Cleaning can be done both internally and externally–with the most common areas including warehouses, dock stations, parking lots, as well as construction sites.  The sweeper forklift attachment is easy to use and allows the operator to clean more efficiently by driving the forklift truck, thereby requiring less manual cleaning.
Mopping  Accessory or Attachment
You can additionally purchase a mop attachment, which allows you to quickly mop large areas commercially. Additionally, some sweeper attachments include a mopping accessory, meaning the attachment can work both as a sweeper and as a mop.  Our sweeper forklift attachments include a mopping accessory. You can find out more by going here to learn about our different sweepers and mopping accessories we have available.
Sweeper Collector with Hopper
Some forklift sweepers only push the trash and dust, allowing you to pile the material in one location to dispose later.  However, some forklift sweepers allow you to vacuum debris and dust on the floor, making it more simplistic for you to sweep and dump the waste.
Some vacuum sweepers have a hopper, in which the debris and other material can easily be dumped. This allows you to easily lift the hopper up with your forklift and tilt the debris and dust into a trash dump.  While these all-in-one sweepers cost more, its additional features allow operators to be more efficient in their operations, which can save your business money in the future.
Attaching the Sweeper
Attaching the sweeper is simplistic, as it easily attaches to the forks on the forklifts.  To ensure all safety precautions are taken, make sure you follow the manufactures instructions for proper attachment.
Training Operators
It generally will take very minimal training for forklift operators to properly operate any forklift attachment, including the sweeper.  Training should include understanding how to properly attach the forklift attachment, as well as properly inspecting the sweeper before using it.  Operators should learn how to properly maneuver the forklift with the attachment, and should make sure they follow all the manufacturer's instructions on how to properly operate their specific attachment.  Some attachments will require regular cleaning to ensure longevity, so make sure you consult with the manufacturer's instruction manual on how to properly keep your forklift sweeper cleaned and maintained.