'My Forklift Isn't Working! What Should I Do?'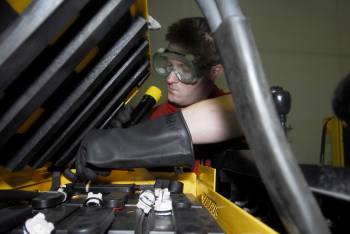 Forklifts are durable, hard-working industrial machines that can provide thousands of hours of reliable service without breaking down.
But forklifts also are mechanical machines. So over time, parts can become worn, components can break down, and human error can cause vehicles to become inoperable.
If your forklift suddenly stops working, what should you do? The answer depends on a number of important factors.
Check the Power
The first thing to check is the power supply. If yours is an electric forklift, this will be the battery. If it's gas-powered, it will be your fuel supply, whether it's gasoline, diesel, liquid propane, or something else.
If the onboard gauges tell you that your forklift should have power, it's probably something more serious. The most common forklift problems are leaking fluid, engines not starting, overheating, the forklift is unable to pull, or the brakes don't work.
Who You Gonna Call?
Unless you or somebody on your staff is a trained forklift mechanic, you probably don't want to attempt repairs yourself. In fact, if you have a service agreement or the vehicle is still under warranty, fixing it yourself could possibly make those null and void.
So the first thing you want to do is to determine who is responsible for making the necessary repairs. If it's a leased forklift, your first call probably should be to the company you are leasing it from. If you own it, check to see if the vehicle is still under warranty. If so, contact the dealer where you
If you own it, check to see if the vehicle is still under warranty. If so, contact the dealer where you bought it and start from there.
Authorized Repair Centers
If you have a service contract for your forklift or if you have a forklift repair vendor whom you normally deal with, you will want to contact that service provider. If it's after hours or if you are using a website, you probably are simply going to leave a message and somebody will get back to you later.
Make sure you thoroughly describe the problem in full. Include other essential information in your message, including your name, the name of the business, the business's address, the make and model of the forklift, the number of your service agreement, and a phone number and/or website where they can contact you.
Depending on the terms of your warranty or service contract, a technician may travel to your work site to make the repairs. Or the forklift may have to be loaded onto a flatbed and taken to the repair shop.