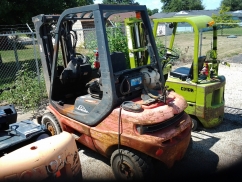 What Condition is Your "New" Used Forklift In?
When you buy a "new" used forklift, it can be very difficult to know what condition it really is in. One forklift may be battered and bruised on the outside but in perfect working order. Another one might have a shiny new coat of paint, but otherwise, be ready for the scrap heap. It's hard enough to know when you have the opportunity to inspect the forklift in person before you buy. When you're buying sight-unseen online, it can be impossible. Or is it impossible to know? When you know who to buy from and what to look for, buying a used forklift online can actually be the surest way to know what condition it will be in when it arrives at your door.
The Secret to Buying a Used Forklift Online
The 2 biggest mistakes people make when buying used forklifts and other used products online are:
1. Looking for the cheapest products first and
2. Being overly impressed by flashy websites.
The first of these is usually the most disastrous because the cheapest used forklifts are usually found on Craigslist and other unmonitored sites where individuals offer goods for sale. Internet forums are filled with complaints about ripoffs and even undelivered goods purchased from sources like these.
An expensive website can be a sign of professionalism, but it can also just be a "pretty face" designed to lure the unwary. Many web marketers produce beautiful websites but have little or no knowledge of the actual products they are selling. When someone contacts them for more information about their products, they receive an automated response or a response from a call center that is basically just a sales pitch.
The secret to buying used forklifts and other used goods online is to check the seller's credentials first. Do they have a "real world" business as well? How long have they been in business? Check out our About Us page and you'll learn that Reconditioned Forklifts is part of the Bahrns Equipment family. Bahrns Material Handling Equipment & Supply has been around since 1966 and knows everything there is to know about forklifts. When you deal with us, you are dealing with respected experts.
How to Know What Condition Your "New" Used Forklift is In
After you are confident you have found a reputable dealer like reconditionedforklifts.com, then you can start looking for a used forklift. We've been selling used and reconditioned forklifts long enough to know that some customers are looking for a cheap forklift they can recondition themselves or use for parts while others want a reconditioned forklift that's backed by a warranty. Still, others want something in between: a forklift they know will be in operational order when it's delivered but is less expensive than a fully reconditioned forklift.
We make it easy to find used forklifts by dividing them into 3 categories:
1. As Is
2. Guaranteed Operational
3. Toyota Certified Reconditioned
Read all the details about these categories in About Reconditioned Forklifts Condition Classifications on our website. About Toyota Certified Reconditioned Forklifts and ReconditionedForklifts.com's Operational Guarantee will give you even further information.