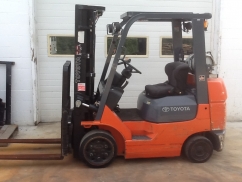 Forklift Manufacturers TCM and Nissan Team Up to Take on Toyota
Here at Reconditioned Forklifts, we sell used and reconditioned forklifts by all major manufacturers. We try our best to be objective when it comes to manufacturers and don't take sides. Our business is to be completely transparent so that our customers know exactly what condition the used forklift they buy from us is in before they buy it. Forklift manufacturers, on the other hand, do take sides in their efforts to compete for sales.
In an earlier blog, we reported that 2012 marked Toyota Industries Corporation's 12th straight year at the top of the list of materials handling equipment manufacturers. As the manufacturer of 2 of America's favorite forklifts, Toyota and Raymond, toppling Toyota from its throne was too big a task for any single manufacturer, so TCM and Nissan joined forces under a single corporate banner. The new company, UniCarriers Corporation, (a subsidiary of the Japanese government-backed Innovation Network Corporation), aims to be the world's 4th largest forklift manufacturer; but its long-term goal is to become Number One.
According to World Industrial Reporter and other sources, the merger is already a "done deal," with all shares issued from TCM's Hitachi Construction Machinery and Nissan Forklift's Nissan Motor having been transferred to UniCarriers. The ultimate goal of the merger is to produce the largest and most comprehensive range of lift trucks in the world.
Whether the company can achieve that goal or not is another question. Toyota made it to the top for very good reasons, offering unparalleled quality at competitive prices and backing up sales with customer service that's second-to-none. Toyota's commitment to customer service extends far beyond their new forklift warranty period, too. Take a look at these 3 categories of used forklifts on offer here at reconditionedforklifts.com:
• As-Is forklifts have been inspected by our expert forklift technicians and their defects are listed, but not repaired.• Guaranteed Operational forklifts have been inspected by our team and repaired where necessary to put into operational order.
• Toyota Certified Reconditioned Forklifts have been put through Toyota's rigorous inspection and repair program.
For the very best reconditioned forklift, you can't beat a Toyota Certified Reconditioned Forklift. Toyota demands that only Toyota-authorized technicians to inspect and repair forklifts before they can receive Toyota certification and a comprehensive warranty.
We are proud to be authorized to offer Toyota Certified Reconditioned Forklifts here at reconditionedforklifts.com and take equal pride in our reputation for customer service and reliability. This is our promise to you:
You can buy a used or reconditioned forklift from us with full confidence that you are getting exactly what you pay for at the best possible price.
There are 2 alternatives to buying your used forklift from reconditionedforklifts.com:
1. You can buy online from a private party and keep your fingers crossed that they are being honest with you.
2. You can drive or fly to an auction, personally inspect the forklifts on offer, and hope you haven't overlooked anything.
Whether you are looking for a used TCM forklift, a used or reconditioned Toyota lift truck, a Nissan, or any other brand, you can find it here.  We recommend first searching by the class of forklift you want and then by condition type. That way, you will know you're getting the right used forklift for your needs, at the right price, and in the right condition.  Whatever brand you choose, isn't that what you're looking for anyway?