The Role of Forklift Accessories in Material Handling
Those of us who are in the material handling business talk about "material handling" often, but we're so used to the term, we don't think about its meaning as much as we should. What is material handling and what is the role of forklift accessories in material handling?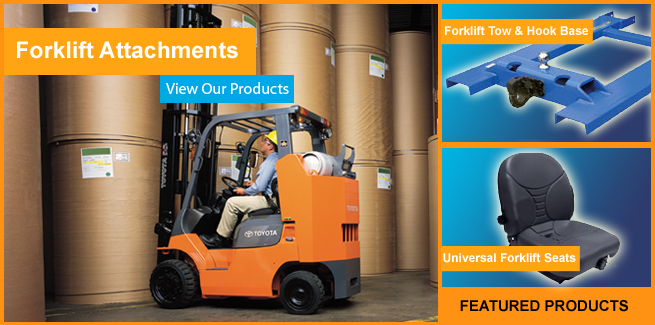 Dictionary definitions of material handling usually go something like this:
Material Handling is the movement, storage, control and protection of materials, goods and products throughout the process of manufacturing, distribution, consumption and disposal. (source: Wikipedia)
Forklifts are involved in every aspect of material handling and forklift accessories and attachments are used for specific tasks in the material handling process. Let's take a quick look at each stage of the process and see where forklifts and forklift accessories fit in.
When choosing lift truck attachments and accessories, weigh their benefits against their cost. In most cases, you'll discover that forklift accessories are some of the most cost-effective material handling products you can buy.
No one is more informed about the role of forklift accessories in material handling than forkliftaccessories.com. We think about it constantly because it is our business to sell forklift accessories that make material handling more efficient and safer. If you have any questions at all about any of the products you find on our site, don't hesitate to contact us. One of our material handling experts will be there to help. Also be sure to check out our Forklift Accessories Resources for invaluable articles about how to get the most out of your forklift.